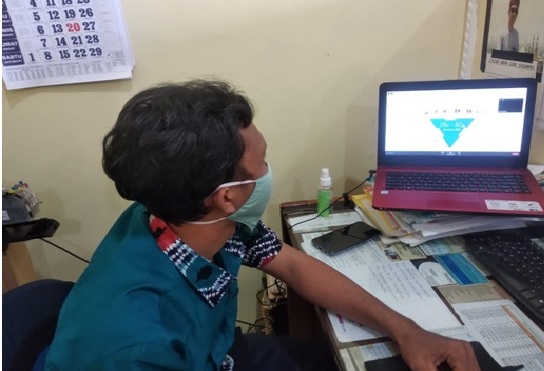 Banjarmasin (SDPPI) – Balai Monitor Spektrum Frekuensi Radio (SFR) Klas II Banjarmasin menggelar pelatihan secara online bagi pegawainya, guna mendalami pengetahuan tentang teknologi Microwave Link dan Aplikasi Radio Komunikasi.
Pelatihan yang diikuti 17 aparatur sipil negara (ASN) itu dilaksanakan selama dua hari, 24 dan 25 Agustus 2020. "Teknis Microwave Link dan Aplikasi Radio Komunikasi sangat bermanfaat dalam pelaksanaan tugas rutin pemantauan, penertiban, serta penanganan gangguan frekuensi radio," kata Kepala Balmon Banjarmasin Mujiyo dalam siaran persnya, Rabu (26/8/2020).
Pelatihan dilaksanakan secara online untuk pembatasan tatap muka berdasarkan Protokol Kesehatan Pengendalian Pandemi Covid-19 . Meski demikian, hal tersebut tidak mengurangi kelancaran kegiatan. Bahkan, pelatihan berlangsung cukup interaktif, dimana banyak pertanyaan disampaikan peserta kepada para pembicara.
Melalui pelatihan online ini, ujar Kepala Balmon Banjarmasin, diharapkan peserta dapat memahami lebih dalam mengenai perkembangan Microwave Link dan Aplikasi Radio Komunikasi. "Pemanfaatan SFR yang begitu masif, seiring perkembangan teknologi komunikasi dan informasi, harus dikelola dan diatur dengan tepat, supaya tertib, efisien sesuai dengan peruntukannya, sehingga tidak menimbulkan gangguan termasuk gangguan keselamatan yang merugikan banyak pihak," papar Mujiyo.
Pada kehidupan modern saat ini, lanjutnya, SFR digunakan di hampir semua aspek kehidupan, meliputi telekomunikasi, penyiaran, internet, transportasi, pertahanan keamanan, pemerintahan, kesehatan, pertanian, industri, perbankan, pariwisara, dan sebagainya. Perwujudan tertib penggunaan SFR perlu pengawasan dan pengendalian petugas yang memiliki kompetensi memadai di bidang telekomunikasi.
Tugas Balmon Banjarmasin, sebagai unit pelaksana teknis (UPT) dari Direktorat Jenderal Sumber Daya dan Perangkat Pos dan Informatika (Ditjen SDPPI) Kemkominfo, melakukan investigasi serta menyelesaikan keluhan pengguna SFR yang mengalami interferensi dalam pengoperasian sistem komunikasi radio.
"Balmon Banjarmasin secara rutin melakukan monitoring frekuensi dan mendeteksi frekuensi yang tidak berizin. Tidak hanya itu, Balmon Banjarmasin juga melakukan inspeksi kepada suatu stasiun tersebut untuk menjamin bahwa pemegang izin mentataati kondisi operasi izin, seperti output RF, akurasi frekuensi radio, modulasi dan lain sebagainya," jelas Mujiyo.
Pelatihan teknis online Microwave Link dan Aplikasi Radio Komunikasi bekerja sama dengan PT Halia Teknologi Nusantara. Hery Mansur, selaku pembicara di hari pertama, memaparkan teknologi radio microwave yang meliputi Definition and Application, Radio Spectrum, Modulation and Channel Plan, Generic Structure of Radio Link, Equipment Configurations-Protection & Multichannel, dan 5G Transport Requirement. Sementara itu, pembicara di hari kedua, Rina Nurliana menyampaikan paparan Basic Radio Radio Communication LTE Focus yang terdiri dari empat bagian, yaitu Evolution from 1G to 4G, 3GPP Release, 4G LTE Network Overview, dan LTE Troubleshooting.
Source : postel.go.id